Daofile.com is one of the simplest cloud storage platforms on the web. It has an easy-to-use interface for easy navigation when uploading or downloading files. It offers web users a secure place to store and manage files. You can also share files with friends and other online users.
The platform has a free and premium version for different subscribers. Free members can only do so much and have various restrictions. In contrast, Daofile premium offers fast speeds with instant downloads.
What is Daofile.com?
Daofile.com is a one-of-a-kind cloud storage provider. This convenient platform lets you keep your files and essential documents in an online repository for safe storage. The most common file types that web users store here include images, videos, music, flash files, and text documents.
You no longer require a flash stick or external drive to save files. After all, anything can happen to them, and you may lose all your files and documents. Daofile is the right place to store your docs securely. You can retrieve your files using your smartphone, tablet, or PC anytime from any location.
Although Daofile is an online file host, they do not accept all file types. Uploading porn, offensive materials, nudity, images or videos that promote violence, and copyrighted content can land you in trouble. If the admins detect such content in your account, they can suspend or close it permanently.
Signing Up with Daofile.com
Signing up with Daofile.com does not cost anything. The process is hassle-free and only requires less than a minute. Daofile requires you to fill out a username and email address to open an account with them. You must also create a password and enter the provided Captcha code to complete the registration.
Like most cloud storage platforms today, Daofile.com has two membership plans. You can register as a free member or upgrade to premium membership. A free account allows you to perform basic tasks like uploading, renaming, deleting, and managing files. However, it has numerous limitations. For instance, you can only download one file at a time. Moreover, free users must wait for the timer to count to zero before downloading files.
If you want to avoid these frustrating restrictions, upgrade to Daofile premium. A premium account has numerous benefits. Premium members enjoy fast download and upload speeds with no waiting times. Besides, you can download multiple files simultaneously. Paying members also have priority support whenever they have questions or issues with their accounts.
Daofile Premium Account
Here are the top benefits available to Daofile.com premium members:
| | | | |
| --- | --- | --- | --- |
| Account | Free | Registered | Premium |
| Storage | 0 | 49 | Unlimited |
| Max upload size | 1 MB | 500 MB | Unlimited |
| Download volume | 1 GB in 3 days | 1 GB in 3 days | 31 GB in 3 days |
| Remote URL upload | No | No | Yes |
| Download Manager | No | No | Yes |
| Download resume | No | No | Yes |
| No download delay | No | No | Yes |
| No download captcha | No | No | Yes |
| No advertiserment | No | No | Yes |
| When are your files deleted? | 7 days after last download | 90 days after last download | 180 days after last download |
Fast Download Speeds – Depending on your internet connection, you can experience fast download speeds of up to 100 Mb/s with a Daofile premium account.
Instant Downloads – Premium members don't have to queue or wait for the timer to count to zero before downloading files. All downloads are instant.
Parallel Downloads – Free users can only download one file at a time. In contrast, premium users can download multiple files simultaneously, saving time.
50 GB Download Limit – Free users get only 1 GB of bandwidth for downloads every three days. In contrast, premium members enjoy up to 50 GB of traffic over the same period.
Multiple Upload Options – While free members can only upload files via the File Upload option, premium members can also use the Remote URL option.
No Ads – Once you upgrade to a Daofile premium account, you don't have to contend with annoying ads and banners.
No Captcha – Daofile premium does not require members to enter Captcha codes and images. Free users must enter a Captcha code before downloading files.
Extended Storage Time – Free users can only store files for seven days before Daofile deletes them. Premium members can keep files for up to 180 days since their last download.
Download Accelerator Support – Daofile premium supports popular download accelerator programs like JDownloader.
24/7 Support – Premium members receive around-the-clock customer service. You can contact support anytime if you have questions concerning your account.
Multiple Payment Options – Daofile.com accepts various payment options for premium accounts. Besides, all payments are secure to protect your credit card details and sensitive information.

How Much Does Daofile Premium Cost?
Daofile has four premium plans, ranging from 31 days to 999 days. The price for each subscription depends on how many days you want to pay for. If you wish Daofile to host your files briefly, go for the 31-day plan. Otherwise, the 999-day plan is the most cost-effective as it allows you to remain a premium member for almost three years.
| | | | |
| --- | --- | --- | --- |
| 31 Days | 90 Days | 365 Days | 999 Days |
| $19.95 | $39.95 | $89.95 | $129.95 |
Daofile.com accepts various payment options, from credit cards to PayPal. Moreover, all payments are secure thanks to the encrypted security mechanisms. The ideal payment option depends on your location and preferred processor.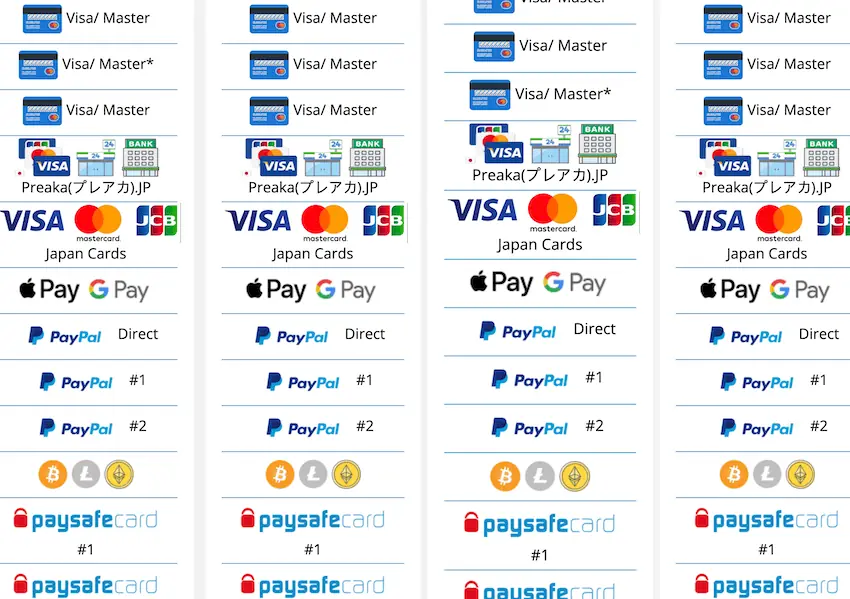 Daofile User Experience and Test
The Daofile website is plain and simple. It does not have flashy graphics or illegible text, making it suitable for everyone. You don't require special computer skills to use this platform. The user interface is easy to navigate, allowing everyone to upload and download files accordingly. Regarding speed, Daofile premium has a download speed limit of 100 Mb/s. Besides, premium members enjoy up to 50 GB of traffic every three days.

Making Money with Daofile.com
As with most file hosts nowadays, Daofile.com offers you several ways to make money. The site runs an affiliate program that pays members for generating traffic and referring new members.
You can partner with Daofile and earn passive income without doing much. However, you must contact the administration to join the program. Payouts are daily. You can withdraw your earnings whenever you reach the minimum cashout limit.
Here is a breakdown of Daofile payouts:
Sales and rebills – 60% commissions
Domain sales – 15% commissions
Webmaster referrals – 5% commissions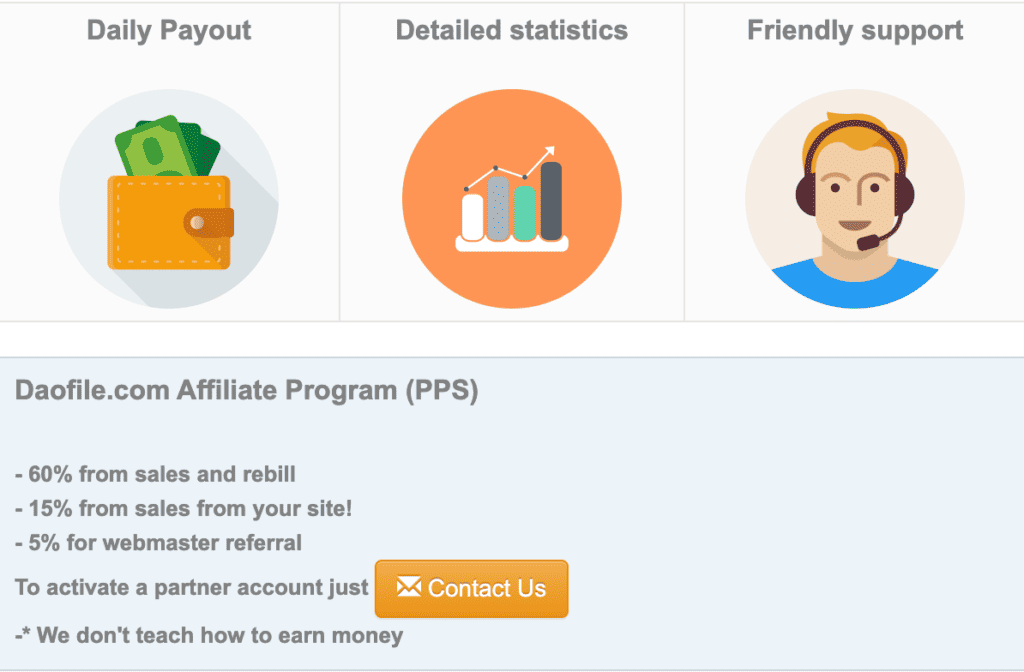 Conclusion
Daofile.com stacks up well against its cloud storage counterparts. While free users can perform basic tasks, they face numerous restrictions. Upgrading to Daofile premium is the only way to unlock the perks and features on this platform. Become a Daofile premium member and notice the difference.